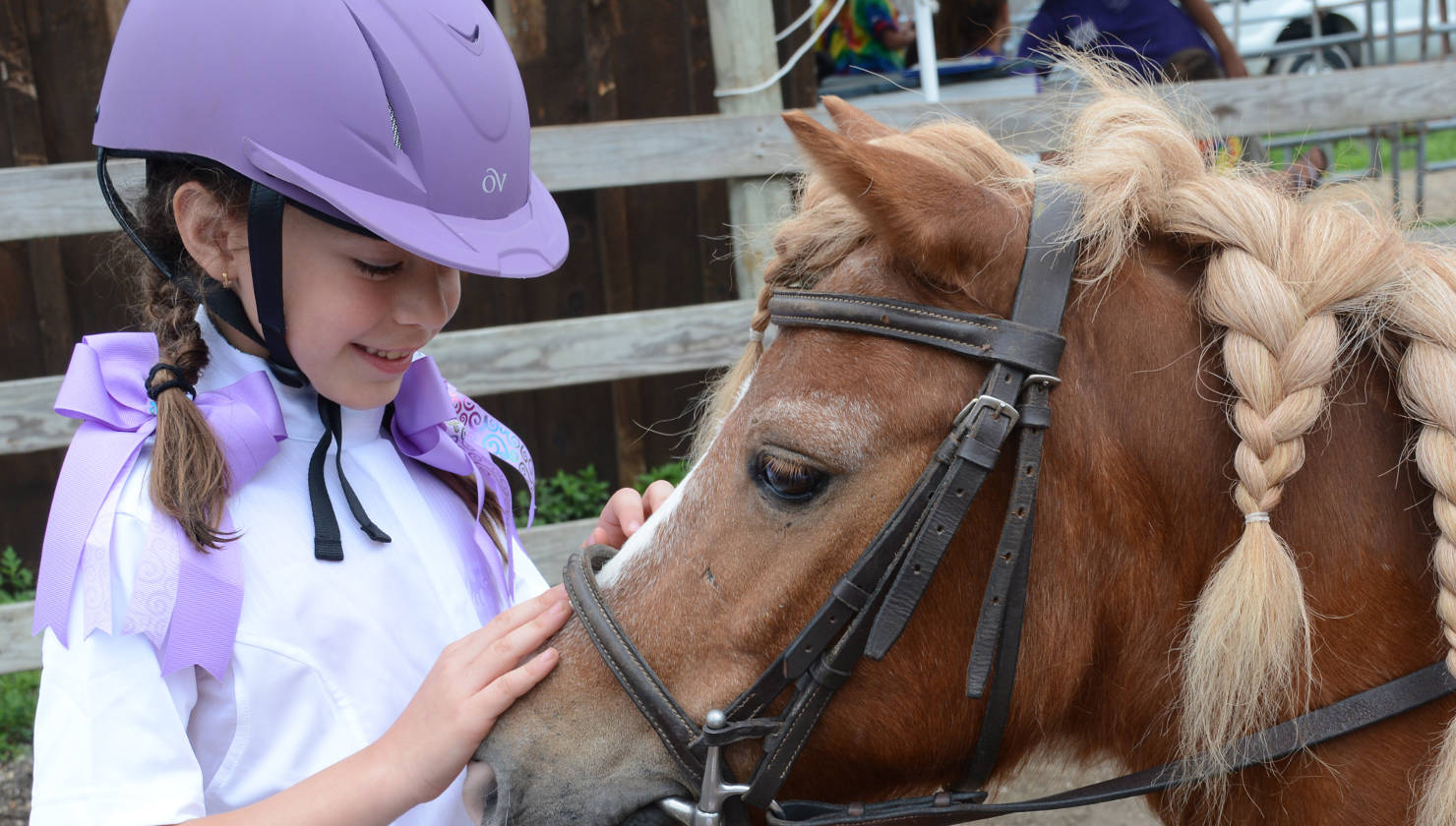 The following is a sample list of specialty program offers. Click Here for details about our activities, sports, arts and trips included in basic tuition.
Horseback Riding - Grades K-8
All campers enjoy horseback riding at least once a week as a part of the amazing CGI activities. Campers signed up for horseback riding lessons receive additionally three times a week professional lessons and instructions! Certified instructors at Thomas School of Horsemanship Day Camp teach riding skills as well as horse care & maintenance. Campers will need to bring their own horseback riding helmet, boots and long pair of pants. Open to all campers starting at 3 years old. Lessons will not be available during the weeks of July 22nd and August 12th (weeks 4 and 7).
Additional cost for Horseback Riding is $50 per week.
Gymnastics - Grades K-8
Professional Gymnastics Instructions our offered in an non-competitive, non-stressful environment where children receive instruction on various gymnastic activities, including tumbling and floor exercises.
Performing Arts - All Grades
The theater program is a huge highlight. Those campers that elect to participate, will all have fulfilling parts in the theater production and will perform for parents. Those that elect to participate in the sports option, will partake in sports clinics, games and competitions.
Sports Academy - Grades 3-8
Sports Academy is an intense sports program for the beginner, intermediate, advanced, or competitive level athlete who simply loves sports! Campers who enroll in Sports Academy will receive top-notch instruction from professional coaches while learning about sportsmanship, gaining confidence, and just plain having fun. They will learn the fundamentals of basketball, baseball, hockey, soccer, and other sports, and will also participate in skills contests. Sports Academy will run during two of the three non-trip days every week, while regular activities are taking place for the other campers, so Sports Academy campers will not miss any trips or swimming sessions.
Archery Academy: - Grades 4-8
This specialty camp will help campers aim for new heights and create an experience truly their own. Coaches will teach safe archery practices and help campers develop the patience, determination and skills that are essential in becoming a successful archer. Coaches will base instruction on daily evaluation of each camper's progress. All campers will design and create archery-related projects that include custom arrows and targets, a bow-sling, an armguard, a quiver, or a finger tab. These homemade creations will be used during their archery practices. Campers will leave with confidence in their abilities and a responsibility for themselves as they target their goals and hit the mark!
Additional cost for Archery Academy is $20 per week.
Swim Lessons: - Grades k-8
All campers receive swim lessons as a part of the official camp program. Swimming training and technique improvement are under the guidance of Red Cross/Suffolk County Certified Water Safety Instructors. Our goal is to utilize the swimming time at camp to improve the campers' swimming skills and motivate them for greater aquatic ability. Rest assured that safety is priority #1. For those campers signed up for additional private swimming instruction, each camper will be tested at the onset of the summer and placed in appropriate training groups for instruction.
Additional cost for Swim Lessons is $20 per week.